Gold Coast Word of Mouth
A vacation & Real Estate Guide for Guanacaste's Gold Coast
We Have everything you need to book your next Costa Rica Vacation. Whether you want to rent a Surf board in Tamarindo or a beach front  mansion inNosara or Papagayo to finding the best rated realtor to find that beach bungalow in Playa Junquillal or Playa Bongo you are in the right place. For those of you not familiar with the Gold Coast , take a minute to explore the incredible beach towns of Northern Guanacaste we will then journey through the southern guanacaste beach towns.
Pick a Beach to start your journey
Add or view listings
The northwest coastline of Costa Rica is often referred to as the Gold Coast. This stretch of land in northern Guanacaste is revered for its beautiful beaches, dry tropical forests, five-star resorts, quaint boutique hotels, gastronomic variety, world-class waves, and adventure tourism. In the late 1980s, Costa Rica became a popular nature tourism destination, and its main competitive advantage is a well-established system of national parks and protected areas, covering around 23.4% of the country's land area, the largest in the world as a percentage of the country's territory, and home to a rich variety of flora and fauna, in a country that has only 0.03% of the world's landmass, but that is estimated to contain 5% of the world's biodiversity. Located in the far northwest corner of Costa Rica, Guanacaste's geographical features are diverse and exotic. With endless options for recreation, there are countless reasons why locals and international visitors alike travel to Guanacaste.Of all the destinations in this beautiful country Tamarindo has evolved into the country's number 1 tourist destination and jumping off point for every type of tourism imaginable given the diversity of life in this one of the worlds last dry tropical rain forests. A truly unique micro climate in a country with 5 distinct micro climates. By comparison all of North America contains only 2 micro climates in a much vaster land mass. From Playa Panama in the upper north west of Guanacaste to the southern Guanacaste beach of Playa Bongo , the many beach towns on this stretch of coast  are easy to fall in love with and many remain relatively untouched offering opportunities for lifestyle change, exploration, or both. The admitted nexus of the Gold Coast Nature, adventure, wellness, nature, and Eco Tourism  and the entire country has become Tamarindo beach, well known for its surfing, bohemian vibe and ever increasing culinary opportunities. Playa Tamarindo remains relatively unspoiled due to its unique geography and strong conservation practices. One thing to remember Tamarindo's long term evolution and popularity stem from one seminal fact that has attracted the type of people invested in guarding its unspoiled beauty. That's right, great waves suitable for expert and beginner alike and a persistent solid right break year round is what has attracted surfers from all over the world who visit  then  try to figure out a way to stay and make a life here, resulting in a pretty cool community who live, work and surf every day. Pretty nice!
Start your  Costa Rica Vacation in Tamarindo
As Tamarindo's popularity has soared and the Ex Pat community has expanded in surrounding towns and villages, so too  have the culinary and lodging possibilities  improved immensely. So today I thought we could walk out of your Tamarindo Hotel and duplicate  my favorite way to spend the day on Playa Tamarindo. 
Let's assume that your Gold Coast beach has started with a Tamarindo beach front Vacation rental or  one of many Tamarindo lodging options. You will not have to go far to explore some very cool hideaways and special places within walking distance from Tamarindo center. From there we will work our way farther afield and get into some serious exploration and some truly wondrous and beautiful finds only a modest drive  or scooter ride from Tamarindo.
Depending on what kind of day you are in the mood for you can head either north towards Playa Grande and the Tamarindo estuary or south towards the  entrance to Playa Langosta estuary. Either direction will work no matter if exploring is your desire or a 4 star dining experience is more your speed. Crossing the estuary  to Playa Grande on one of the small panga boats 
that hover there and charge a buck or two to cross opens up a very beautiful walk along the beach side (great shell hunting) or  the ability to work your way through the beautiful paths that cut through the mangroves and come to the Playa Grande beach road. At the very end of this beach road where these paths will lead  is a sleepy beach hotel that I always liked. Once you find the caretaker they are always happy to dig out a cold Pilsen to enjoy by the pool. Quiet and beautiful. Of course, you can also enter from the beach side or continue down the beach.
A word about the Tamarindo estuary
 Spreading our blanket next to the estuary and enjoying the shallow rushing water used to be one of  our Friday go tos. Usually with a nice bottle of French wine at El Cocodrillo just up the path to finish.  Turns out el Cocodrillo is aptly named as in recent years the tourist habit of feeding the Crocodiles (Cocodrillo in Spanish) has created a situation where the animals have come to associate humans with food . This unfortunately led to a few humans becoming food.  Swimming across the estuary as I've done many times is no longer recommended.
Please dont feed Th
e

 

Crocodiles!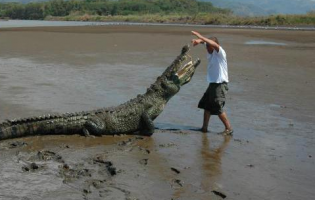 South
Walking south towards playa Langosta is worth the journey and two features make it so. Just past Nogui's and El Pescador,  two staunch mainstays at the south end of Tamarindo beach, it's possible to come away from the water a bit and walk the natural grassy tree laden paths that constitute the meeting of ocean and  land that remains before the secluded beach mansions and exclusive hotels that dot the beach onwards to Playa Langosta . Pristine. 
LANGOSTA ESTUARY
This estuary provides the egress for all the water that builds from mountain runoff during the rainy season creating  vast swamps that lie behind Tamarindo and Langosta and almost all beach towns in Guanacaste. This makes the mile hike from Tamarindo worth it as the wild life and serene beauty of this  spot is unforgettable and as far as I know, it's still safe to swim there. At least it was safe last time I swam there. If I hear otherwise I'll let you know. So far nothing to report.
Langosta Beach club
 I will admit to being a food snob  and was bereft until Arnaud and his wife took over the Langosta Beach Club. Not only is the food first class the view and ambience elevate this to a World Class destination Yes you might spend a couple bucks but you will be accommodated royally in the poolside cabanas that look like the inside of  a Sultans tent each with an inviting champagne bucket and many culinary possibilities. My favorite kind of place. The food is first class in the French style and the beachfront tables are exquisite for lunch while the kids can surf a few feet away. The club even rents boards. My favorite go to day off here was to drink Heinekens with my buddy Andre at The pool bar and order whatever steak was on special that day. I think the last one was stuffed with goat cheese sorrel and mushrooms and  cooked a perfect black and blue which is next to impossible to get done right here unless a fine cut of beef is used. In this case I believe Arnaud was using Argentine beef. You get the picture. They take food seriously. Best to reserve a space on weekends and holidays if you want a cabana. Ask for Arnaud
El Vaquero
A Friday religion with us.  Sushi and draft beers on the picnic tables behind the Witchs Rock Surf Camp with Lisa and Andre. The house does their own brews and offers a very respectable Indian Pale Ale thats one of my favorites. Watching the surf and beach action with Playa Grande sweeping off into the distance is a great way to spend a Friday afternoon. Plus the sushi is awesome. A don't miss  spot.
Laguna del cocodrillo
Usually a solo adventure with a book for me or occasionally with my girl.  Coincidentally the French  bakery and kitchen is run during the day by the mother of Arnaud ( of Langosta Beach Club) and she keeps a solid   affordable wine list and Panini menu and a few french stand by lunch entrees to enjoy at the quiet back tables overlooking the portion of the estuary where they used to feed the Crocodiles. The Crocs have fortunately moved further into the estuary and we no longer feed them. Right? This is one of my true favorites for a quiet beach day and I highly recommend it. 
Playa Grande
Grande is next door to Playa Tamarindo but it's a big beach and easily accessible from Tamarindo beach. I'd recommend coming at it by vehicle although  I have done a few entire days there on the hoof exploring and that's wonderful too if you like a lot of exercise. There are lots of small beach hideaways where you can park your vehicle  and wile the day away without seeing another vehicle. Playa Grande is considerably more laid back and lightly developed compared to Tamarindo. The long beach road that traverses the length of Grande is bordered on one side by the estuary where locals have homes with small docks that ply the canals of the estuary. It's a cool ride and several pocket communities have sprung up back there. Lovely and quiet with a few hidden jewels
Los Baulas national  park
As you wind your way north along Grande you are in this park which protects the area. There are a sparse few beach homes at this end as most building has been tied up in international court for years. Driving to the very north end offers several little hideaways for your 4 wheel drive vehicle that bring you right to the beach without doing harm. If nobody beats you to it you can enjoy a full day with the beach to yourself except for a few intrepid souls  like me that walk the whole beach from Tamarindo. So private that it's a favorite spot for nude sunbathing. Also a great spot for surf fishing when the estuary releases, also body surfing, and as I mentioned; Private.
The Great Waltinis
Talk about private this is one you can get lost trying to find driving. Better you grab a panga  at the Tamarindo side, they will take you right to the dock up the estuary a bit. Great way to spend a day at a nice pool.  Restaurant has typical food and a full bar for cocktails with real glasses.
Los Tortugas
This sleepy  hotel sports a lot  of potential diversions my favorite being the restaurant on the second floor of the hotel  that overlooks the  sparse beach trees and the surf. The setting is unique and  rustic with a fine display of how the indigenous people use  the Impressive native hardwoods. Breakfast here for me was a delightful treat and the fare, like the design, is true  Guanacasteco. The second story beach view and ambience makes this worth the visit However even though its quiet they has a lot of tables and chairs ready. Good for big groups although I have never seen one there. The restaurant services the downstairs pool area that sports a few deliciously deep hammocks and a pretty  path to the beach. Don't miss the hidden heated Jacuzzi tucked into a lush corner of the pool area great chaise lounges and tables by the pool make this a great place to pass a day.  
The beach bar attached to the back of the hotel is a favorite of mine. 5 stools, a great view,  a great bartender, the best burritos in town, not to mention the nicest owner you could meet. A midwest girl that looks like she stepped off the cover of a California surf magazine which is why she's here of course.  A Very nice spot! This is a great walk from Tamarindo just look just behind the wooden lookout tower.
A word about swimming  Playa Grande.
Playa Grande is very rough and tumble  beach with multiple wave directions and rip currents.  That's why its a great surf spot. However unwary often inexperienced swimmers are lost there every year. 
Please be careful!