As one of the most popular provinces in Costa Rica, Guanacaste has gained a name for itself as a tropical paradise with a pristine shoreline, beautiful mountain ranges and a number of volcanoes.
Visitors are drawn to the long summer days, active culture and unparalleled wildlife.
Located in the far northwest corner of Costa Rica, Guanacaste's geographical features are diverse and exotic. With endless options for recreation, there are countless reasons why locals and international visitors alike travel to Guanacaste.
History
Guanacaste's unique cultural notes are an after-effect of once being part of Nicaragua. The indigenous Corotega dominated the region during pre-Columbian times, and some locals today even resemble the people of this tribe.
Around Beautiful Costa Rica Tour
Although Costa Rica managed to get the province back from Nicaragua, the region still boasts a slightly different personality than the rest of the country, making it a great place to visit for new and seasoned Costa Rica travelers alike.
Beaches
As Guanacaste spans the northwestern corner of Costa Rica, it should come as no surprise that this lively province is home to some of the most beautiful beaches in Costa Rica.
Tamarindo is sunny throughout nearly the entire year, and the weather remains pleasant without much humidity. Travelers can do everything from surfing, ATV Tours, snorkeling, zip line, horseback riding, hiking and more.
Sitting between two mountains, Playa Hermosa is a great location for travelers who wish to have a laid back experience away from crowds. Hermosa is near Rincon de la Vieja National Park, Palo Verde National Park and Santa Rosa National Park, so there are plenty of opportunities to experience wildlife in this area.
Other pristine shorelines in this region include Playa Panamá, Playa Grande, Pan de Azucar, Playa Ocotal, Playa Flamingo and Playas del Coco beaches.
Active volcanoes, dream-like waterfalls and blissful beaches make Guanacaste one of a kind.
National Parks
Covering 34,800 acres and encompassing six life zones, Rincon de la Vieja National Park is a must-see Costa Rican paradise.
From its active volcanos and deep black soils to its dream-like waterfalls, this park is perfect for any outdoor or wildlife enthusiast. Travelers will find montane and dwarf cloud forests and diverse ecosystems along a trail that ventures up the mountainside of the park's volcanoes.
Santa Maria Volcano reaches a peak of 6,385 feet, which is one of nine craters in Rincon de la Vieja. This park is also home to an abundance of flora and fauna, including puma, jaguars, sloths and tapirs.
As one of Costa Rica's first national parks, Santa Rosa National Park was a milestone in the country's commitment to preservation. Containing dense forests and white-sand beaches, this park is a unique place in the region where visitors can go camping to enjoy the sights and sounds all night.
Santa Rosa National Park is also home to one of the country's most famous monuments, the Hacienda Santa Rosa.
Liberia
As Guanacaste's capital city, Liberia is the province's regional economic and urban center.
Once a small cowboy town, this city has maintained its native Tico atmosphere while providing plenty of accommodations for travelers.
Liberia is known as the "White City" because of the whitewashed walls and colonial architecture seen throughout the city. Travelers with a penchant for the Wild West vibe will enjoy visiting the many ranches in the outskirts of the city or catching one of the in-town rodeos.
Map of Guanacaste
Click on the map of Guanacaste to zoom into an Area.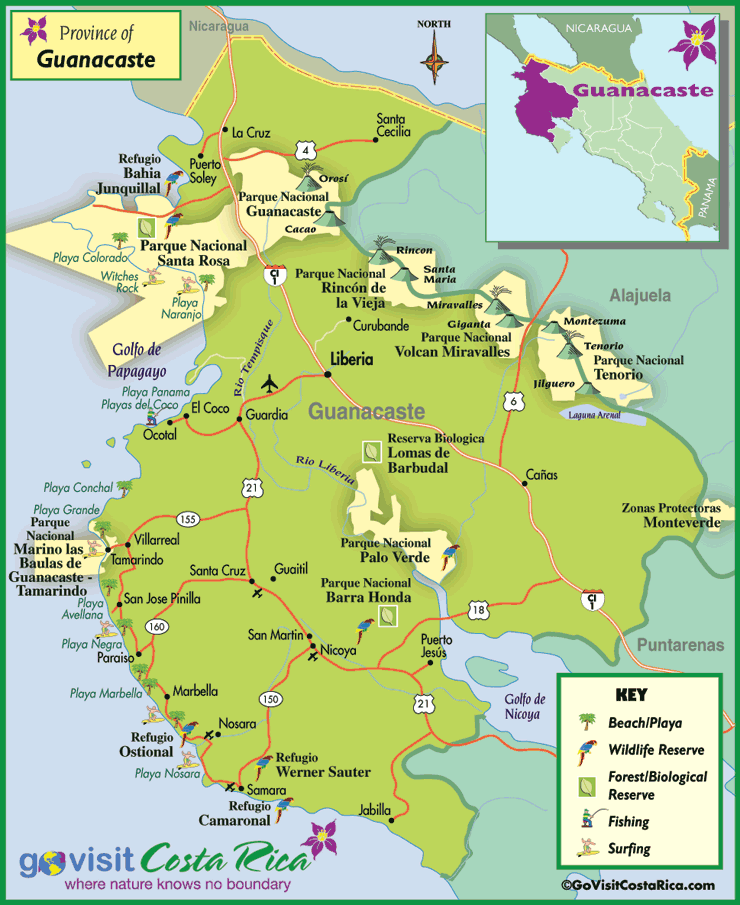 Getting to Guanacaste
Guanacaste is home to the Daniel Oduber International Airport in Liberia, so getting to this province is a breeze.
As one of the main reasons why traveling to Guanacaste has boomed in recent years, this airport is convenient and receives flights from across the world, including the United States.
Guanacaste is also situated along the Pan-American Highway, or Highway 1, which makes it easy to reach for travelers with a rental car or those utilizing public transportation in Costa Rica.
Getting here from San Jose can take anywhere from a few hours to six or seven hours depending on your destination.