Guanacaste National Parks
Enjoy any of 10 national parks in Guanacaste Province alone
Pictured:Great Egrets and Roseate Spoonbills in Palo Verde National Park in Guanacaste
Sponsor this page
Marino las Baulas National Park, Guanacaste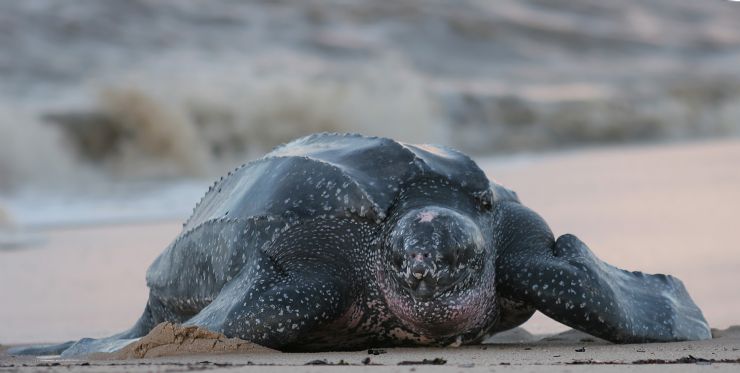 Leatherback Turtle coming out of ocean
Marino las Baulas de Guanacaste National Park is one of Costa Rica's most important sea turtle nesting sites.
Located on Costa Rica's Pacific Coast in the Northern Province of Guanacaste near the tourist town and surf mecca Tamarindo, this national park is a significant Leatherback sea turtle nesting spot in the world.
Created in 1990, this national park was made in order to protect the endangered Leatherback turtles, who come every year to nest on the shores of the beautiful Playa Grande.
Location & Size of the Park
Encompassing an area of roughly 445 hectares of mangrove swamps and coastline, the Marino las Baulas National Park is made up of the four beaches, Playa Grande, Playa Langosta, Playa Ventanas and Playa Carbon.
This national park also extends 12 miles off shore as well, to protect the sea turtles from poachers and tourists alike.
Marine Turtle Nesting Site
The nesting ground for thousands of Leatherback turtles who make the journey every year to this national park, Marino las Baulas National Park also protects 174 species of birds and a number of different animals that live in the estuaries here.
Home to the white ibis, the cattle egret, the blue-winged teal and the muscovy duck, this park also looks after capuchin monkeys, howler monkies, raccoons, crocodiles, pacas and grey squirrels as well.
The largest marine reptiles in the world, the Leatherback Sea Turtles or Baulas as they are known in Spanish, come here in huge numbers during the months of November to April to mate and lay their eggs. Also the world's largest turtles, Leatherbacks can weigh up to 1,100 lbs (500 kgs). Unlike other turtle species that have a hard shell, Leatherback turtles have a black tough leathery skin that is almost rubbery.
These amazing marine turtle travel about 3,700 miles from their feeding ground to mate and lay their eggs, making it the furthest migrating sea turtle.
Map of the Area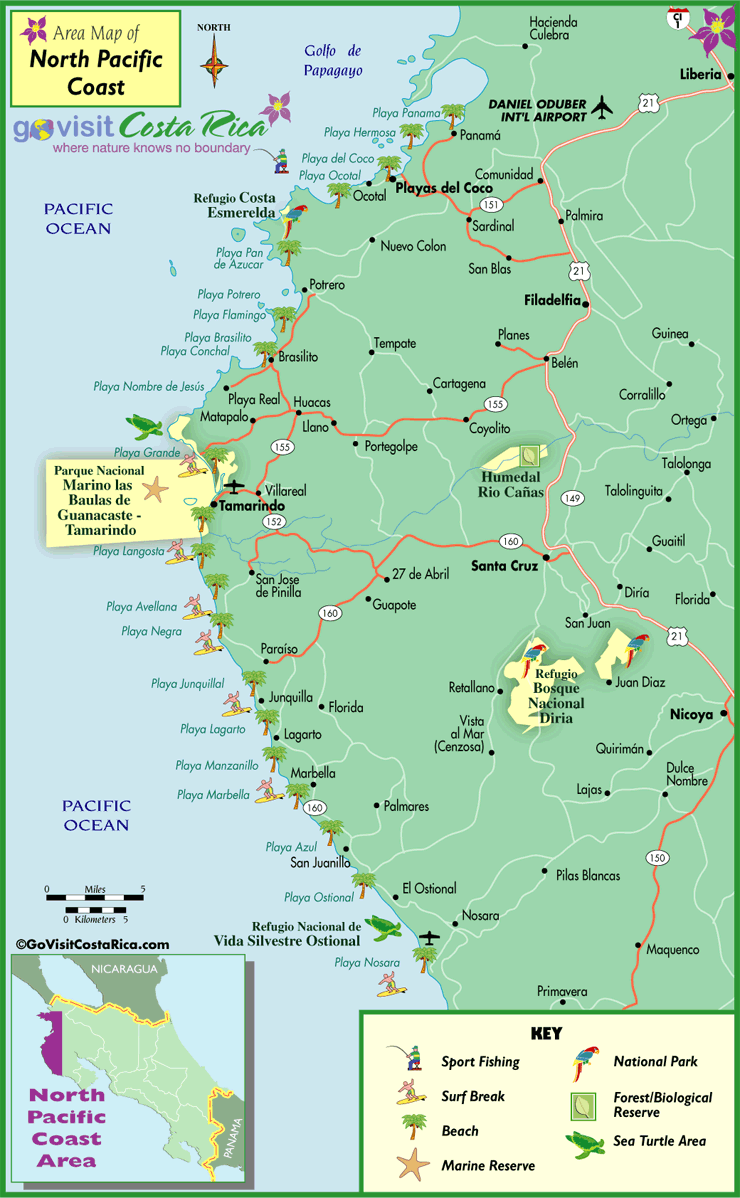 Getting to Marino las Baulas National Park
To get to Marino las Baulas de Guanacaste National Park, you can fly into the Liberia International Airport and then drive west toward the town of Tamarindo; from here, you need to go north to Playa Grande by a rough dirt road.
Another way of reaching this national park is by boat across the Estero de Tamarindo.
It is important that visitors be aware of certain things when touring this national park.
Do not use cameras with flashes or flashlights, do not approach the turtles and do not walk on the dry sand that lies above the high tide markings.
In order to see the turtle you will have to go on a tour with a certified guide, without a guide you will not be allowed on the beach at night, as this is when the turtles come to nest.
Marino las Baulas National Parks is a great place to visit with family, this national park also has a turtle museum and certified night tours during the turtle nesting season.
Cabo Blanco Absolute Nature Reserve
Cabo Blanco Absolute Nature reserve protects semi dry tropical forest on the southern tip of the Nicoya Penisula, Costa Rica.  The 2 mile long (3 km) trail crosses a ridge and drops down to Playa Banco on the tip of the Nicoya Penisula.

The visitors entrance to Cabo Blanco is on the east side of the Peninsula near Cabuya, south of Montezuma. Open 8 am – 4 pm Wednesday through Sunday (closed Monday and Tuesday) Access on the western side of Cabo Blanco Absolute Nature Reserve (Reserva Natural Absoluta Cabo Blanco) is restricted to the tiny but strikingly beautiful Playa Cuevas. There are no public trails from this entrance.
Barra Honda Caverns National Park
The area of the Tempisque Basin where the Nicoya Peninsula joins the mainland has a foundation of relatively soft limestone. Water has cut extensive caves through Cerro Barra Honda and the other small mountains creating the best know feature of this National Park. However, the park also has well maintained hiking trails. The protected tropical dry forest (though mostly secondary) within its borders is some of the last in the world, and very different from the rain and cloud forests that attract many ecological tourists to Costa Rica.
The Caverns
The soda straws, pearls, roses, needles, cave grapes, curtains, terraces, stalactites, stalagmites and other calcareous formations of the more than 40 limestone caverns are the main attraction at Barra Honda National Park.
The caves are all in relatively good condition because their vertical entrances are difficult to negotiate. This is also why you need climbing gear, a guide, and permission from the Parks service in advance to enter them.
The caves range from a few feet to over 780 feet (240 meters) deep. Pozo Hediondo (Fetid Pit) Cave was named for the aroma of the guano deposited by thousands of resident bats.
Until the caverns were discovered and explored in the late sixties, many believed that Cerro Barra Honda was a volcano because of the roaring sounds made by the bats as they departed the caverns en masse, and the fumes from the caves they occupied.
Hiking at Barra Honda
The network of hiking trails used to access the caverns are great for exploring one of the rarest habitats on earth, tropical dry forest. The juxtaposition of capuchin monkeys and cactus seems odd, and some of the trees flower only after they've dropped all their leaves. Any time of year you can hope to see howler monkeys, deer, racoons, peccaries, kinkajous, agoutis, and anteaters.
Maps are available at the ranger station. The main trail is an undriveable continuation of the entrance road that leads through mostly secondary forest to cerro Barra Honda (1,450 feet, 442 meters) where you are rewarded with spectacular views of the Tempisque valley.
When to Visit and Where to Stay at Barra Honda
The caves are not open in the wet season because of the danger of flooding by the torrential rains that carved them from the stone. If you are a spelunker the dry season is your best bet.
Use the drop down menu to select any month of the year for a summary of the typical rainfall and weather patterns.
Cabinas and Camping – If you are traveling on a budget, spend the night. It's one of the few places you can get a bed and a roof inside a National Park. At the ranger station a few minutes up a good gravel road from the entrance (closed from about dusk until 8:00 am) there are four rustic cabinas with bunks for six or eight each.
These provide an excellent opportunity for travelers who don't have either camping equipment, or the money for a lodge or ecocamp, to spend the night in the forest. When we stayed we had the place to ourselves and were on a hiking trail by around 5:15 am (about 15 minutes before sunrise) in order to catch the increased activity of the forest's residents. We also felt comfortable walking on the broad main trail after dark, when you hear and see a whole new group of birds, insects and animals.
There is a camping area next to the ranger station, across the road from the cabinas.
If you don't stay in the park, Nicoya is the closest alternative with lodging options in most price categories (nothing on the top end however).
Getting There
Driving directions
From San José, take the Interamerican Highway (1) north just past the turn for Las Juntas de Abangares. Turn left on 18 towards San Joaquín and then follow the signs for the spur to the new Tempisque bridge. Once you rejoin the main road, continue southwest about 10 km then turn right towards the villages of Barra Honda and (also known as Nacaome) Santa Ana, and follow signs for the park entrance. The park headquarters is through the gate (closed at dusk) less than a mile up a good gravel road (4WD not required) on the left.
Bus
Unfortunately there is not a direct way to reach Barra Honda by bus. You can get a bus from San José to Nicoya, then there is one bus a day (12:30 p.m.) from Nicoya to Santa Ana which is about a 30 minute walk from the entrance.
Daily departures from San José, Terminal Alfaro at 6:30 a.m., 8:00 a.m., 10:00 a.m., 1:30 p.m., 2:00 p.m., 3:00 p.m., 5:00 p.m., 156 km, 6 hours, $5.20, Alfaro Bus, telephone (506) 2222-2666
Quick Facts about Barra Honda National Park
The protected area is 5,600 acres (2,300 hectares, 8.75 square miles, 7 times the size of central park NYC) with elevations ranging from 20 to 442 meters (66 to 1450 feet). The habitats represented here are margin/edge and regenerating tropical dry forest.
Hours
The gate is open from 8:00 a.m. until dusk, if you are staying in the park, the rangers leave the station door open until they go to bed around 8:30 p.m.
Hiking trails
Maps are available at the ranger station. The main trail is an undriveable continuation of the entrance road that leads through mostly secondary forest to cerro Barra Honda (1,450 feet, 442 meters) where you are rewarded with spectacular views of the Tempisque valley.
Habitats
Tropical lowland dry forest, pasture, limestone caves
Guanacaste is home to eight national parks, each known for their vast habitats, natural beauty, and varied wildlife. You've probably heard of many of them: from leatherback turtle beaches at our own Las Baulas National Marine Park to the canals of Palo Verde National Park, Guanacaste is famous for its parks. Except one. One that flies decidedly under the radar.
Welcome to Guanacaste's best-kept secret. Kick off your flip-flops and get out your hiking shoes. We're going to Diria National Park!
Here, what was once a protected area is now a national park – an upgrade courtesy of Diria National Park's varied ecosystems, strong conservation efforts, and entertainment value. That's right, Diria is not only beautiful but also a fun place to visit: Filled with crystal-clear river waters, a majestic waterfall, interwoven trails, and an abundance of birds, mammals, and other animal species.
Diria National Park Overview: 
Location: 10 miles south of Santa Cruz
Founded: 1991 (became a national park in 2004)
Maximum Altitude: 5,905 feet (1,800 meters) above sea level
Area: 13,410 acres
Hours: 8 a.m. to 4 p.m.
Telephone: 2686-4968 / 2686-4970
Entrance Fee: $6 adults / $5 children
Attractions:
One of the most lovely things about Diria National Park is its dedication to different. In comparison to many of Guanacaste's national parks, which unroll over hot and arid lowlands, Diria's scenery is much more diverse – and altitudinal!
Nearly 10,000 of Diria's acreage is comprised of tropical dry forest, which then climbs to fresh, sky-high premontane tropical wet forest for the remaining 3,500 acres. All this boils down to cooler temperatures, higher elevations (up to nearly 6,000 feet), and varied habitats – a trifecta that creates not only lush scenery, but an important transitional zone for Costa Rica's plants, birds, mammals and reptiles.
Trails:
Diria National Park is a park in process – ever developing. That said, as of 2018 there are three hiking trails: one short walking loop, one long loop, and a trail that leads to Brazil Waterfall, which only flows in the rainy season.
The short loop takes about 30-40 minutes to hike, offering three lookout points along the way. The longer loop requires a total 1-1.5 hours and extends off the short loop, weaving through dry forest and two more lookout points to the surrounding mountains, before doubling back to the short loop; alternately, you can take the steep return descent along a gravel road.
The waterfall trail passes two more lookout points and also offers access to the seasonal Brazil Waterfalls and a natural swimming hole. This hike can be physically demanding and is thus recommended only for hikers in good physical condition.
Biking Trails:
As of 2018, Diria National Park is working hard to build a series of mountain bike trails – and their accompanying mountain bike tours – as part of a community tourism project and sustainable effort. The long, demanding trails will highlight the park's broken terrain, which can soar more than 3,000 feet in just 7.5 miles.
Flora and Fauna:
And that brings us to the reason you're here: flora and fauna, plants and animal life. And in this case, you're in luck. Diria National Park is home to important virgin forest which, unlike secondary (regenerative) forest, has never been cut, farmed, or otherwise changed from its natural state.
All good things for local plant and animal life, which have populated these forests for centuries.
Among other impressive tree species, you may spot the iconic Guanacaste, rosewood, gumbo limbo, ash, and the spiky pochote. Trails are labeled with plaques to identify the trees, so be sure to have a look.
That said, we know you're probably here for the wildlife, so you should know that Diria houses an exhilarating variety of large mammals, including howler monkeys, coatimundi, coyotes, white-faced monkeys, anteaters, boar, possums, and occasional jaguarondi. Snakes, reptiles, and amphibians are also common sightings, as are all manner of butterflies. (Be sure to keep your eyes peeled for the ethereal blue morphos, which often flutter in eye-catching groups!)
All that said, Diria's real stand-out claim-to-fame is its birding. This is paradise for birdwatchers, who flock (see what we did there?) to the park to spot at least 134 bird species that live here. Among the possible sightings are the squirrel cuckoo, turquoise-browed motmot, collared aracari, stub-tailed spadebill, ivory-billed woodcreeper, plain chachalaca, broad-winged hawk, elegant trogon, olive sparrow, long-tailed manakin, barred antshrike, a great kiskadee, masked tityra, and banded wren, among many others.
How many will  you check off your list?
Spotlight on: Blue Morpho Butterfly
Blue morphos are a common sighting at and around Diria National Park. Did you know:
There are

 

several blue morpho butterfly species. "Morpho" is actually the genus, which breaks down to nearly 30 different morpho species, including several of which that are blue.
Speaking of,

 

only the males are blue! Well, usually. Females tend more toward brown, yellow, and black shades.
And even more mind-bending,

 

they're not actually blue. A blue morpho's wings are not pigmented blue, but rather are composed of diamond-shaped scales that refract light to look blue.
They have

 

brilliant camouflage. To counterbalance their iridescent blue color, which could create problems with predators, blue morphos are brown on their top side. They also feature "eye" spots and emit a stink when they feel threatened.
They

 

don't eat. But they do drink! Their favorites include tree sap, decomposing fruits (and even animals), fungi, and wet mud.
And the

 

love the light! And because they refract light so well, you can see them from far away. Pilots have even reported seeing large groups, flying through the sun-drenched canopy.
Recommendations: 
To hike Diria National Park, you'll need hiking shoes or, in the dry season, at least a pair of sturdy, closed-toed shoes (preferably sneakers). It is never advisable to hike in sandals or open footwear, in case of a close snake encounter. Additionally, be sure to pack plenty of sunblock and insect repellent, as well as sun protection (like hats).
Facilities at Diria are sparse; at times, even the ranger cannot be found. Be sure to take plenty of water, snacks, and other refreshments. (You can stock up in Santa Cruz, where you can also grab a quick meal at a local soda, or mom-and-pop restaurant.)
If you're visiting during the dry season, when every last drop of water has evaporated from the surrounding scenery, then your best chance of spotting wildlife is at river mouths and other wet areas: birds, mammals, and reptiles often gather here, sipping from the oft-trickling waters of the riverbed.
Weather:
While you can visit Diria National Park any time of year, for best bird-watching, aim for the dry season (December through April). Otherwise known as North America's winter, this is the season for both resident birds and migratory species alike.
That said, in green season, Diria's rivers flow freely and the Brazil Waterfall roars to life. Note that in the highlands of Diria, rain falls fast and heavy, and roads, trails, and paths can be very slippery. Do not attempt to cross rivers, creeks, or other unknown bodies of water, if you can't measure their depth.
Facilities & Services: 
As Costa Rican national parks go, Diria's facilities are rather sparse. Officially, you'll find potable water, lookout points, camping areas, restrooms, and parking.
Unofficially, Diria is one of Costa Rica's least-visited national parks. The on-duty ranger is often out in the field, rather than manning a front desk that receives few daily visitors. If you arrive and no ranger is on duty, you may consider leaving your entrance fee at the front desk.
How to Get to Diria National Park: 
Diria National Park is located near the city of Santa Cruz, about 50 kms (~31 miles) southeast of Tamarindo.
To Drive: From Tamarindo, take Route 152/Route 160 east to Santa Cruz. From there, take Route 21 south to Arado; in Arado, the road becomes gravel for the final 6 kms. Follow signs to Diria National Park. A 4WD vehicle is highly recommended. You must cross a riverbed to reach the park entrance; in rainy season, the river can be high. Some choose to park and wade across the river.
Private Transportation/Tours: If you're not quite up for the adventure of tackling Costa Rica's backroads on your own, but you still want to hike, then your best option is to hire a driver or book a guide to Diria National Park. With either option, a guide will pick you up in Tamarindo and ferry you to the park in an air-conditioned 4×4. Easy peasy, lemon squeezy.
Need Help? 
If you'd like help arranging a tour to Diria National Park, a rental 4×4, or private transport, please get in touchwith our concierge, Cris! Her services are free and we promise, she'll hook you up with the best option to match your adventure style.
Santa Rosa National Park
Tropical Dry Forest
Santa Rosa National Park protects some of the last remaining tropical dry forest in the world. The small patch of oak forest near the entrance to the Comelco Ranch is probably representative of the original habitat of much of the park. Ranchers burned most of the plateau region, and African pasture grass (Hyparrenia rufa) and the fire resistant Bignoniaceae trees define the current landscape. Nearer the beaches the habitat becomes more native-like.
Guanacaste National Park was created in 1989 to connect Santa Rosa National Park with the high elevation cloud forest of Orosi and Cacao volcanoes and across the continental divide to the Caribbean rainforest of Northern Costa Rica. The hope is that together these two parks protect enough land to ensure sufficiently large habitats for wide-ranging species such as jaguars and mountain lions while simultaneously creating a biological corridor for birds and insects to make local seasonal migrations between the dry forest and the evergreen cloud and rain forests.
Beaches-Turtles, Scuba and Surfing
There are two important sea turtle nesting beaches in Santa Rosa, Naranjo and Nancite. The latter is one of two beaches in Costa Rica (the other is Ostional) where Pacific Ridley Sea Turtles come ashore each year in large arribadas to lay their eggs.
These mass arrivals can include thousands of individuals in a single night, usually on a new moon in late summer.
The beach at Naranjo is also famous for surfing, and the area near witch's rock was a filming location for the cult surfing classic 'Endless Summer II.' There is a campground at Naranjo beach.
From outside the park you can arrange scuba-diving trips to Islas Murciélago, (the Bat Islands), off the Santa Elena Peninsula.
Hiking Trails and Maps
There are a number of excellent trails in Santa Rosa National Park for day or overnight trips.
1:50,000 Topographical maps are available online from Omni Maps (sheets CR50 3048 I, and CR50 3048 IV cover most of the park, but CR50 3048 II, and CR50 3048 III are required for the southern edges)
When to Visit
This is one of the hotter drier areas of Costa Rica, and the whole Guanacaste region has more predictable seasons than the rest of Costa Rica. The chance of rain is much less during the dry season from December to April.
Although it is fairly likely that it will rain on any given day during the rainy season (AKA the green season), it is also fairly likely that it will be a short shower in mid-afternoon. The rainy season which lasts from May until November is also usually interrupted by a two or three week dry spell in late July or August called the veranillo de San Juan (little summer).
Use the menu to check the seasonal information to help you decide the best month for your visit.
Getting There
Location – Santa Rosa National Park is located at the northwestern tip of Costa Rica 118 miles (190 km) northwest of San José (136 miles, 219 km by road). Nearest towns Liberia & La Cruz.
Driving directions – From San José, take the Interamerican Highway (1) north 136 miles (219 km) passing through San Ramon, Cañas, and Liberia to the signed left turn at the entrance road.
Bus – Unfortunately there is not a direct way to reach the Santa Rosa Ranger Station by bus. Buses from San José or Liberia to La Cruz and the Nicaraguan border will drop you at the turnoff from the PanAmerican Highway and you'll have to walk or hitch-hike the 4miles (7 km) to La Casona.
Air – The nearest airport is LIR outside Liberia.
Quick Facts Santa Rosa National Park
One of Costa Rica's larger parks, Santa Rosa covers 49,515 hectares with a wide range of habitats including beach, mangrove estuary, marine, pasture/farm, and tropical dry forest.
History at Santa Rosa National Park
Santa Rosa may owe its early designation as a National Park to an attempted invasion by U.S. troops. The battle that occurred here is a source of great pride in Costa Rica, and the historical significance of the park helped win its protection by executive decrees in 1970 and 1977.
William Walker was an American lawyer who had designs on an empire. In June of 1855 he arrived in Nicaragua, propped up a failing regime, and set him self up as Commander-in-Chief. With this tenuous authority, he planned to convert all of Central America into slaving territory and use the slaves to build a canal from Lake Nicaragua to the Pacific (the San Juan River is navigable from Lake Nicaragua to the Caribbean so this canal would have linked the Atlantic and Pacific Oceans as the Panama Canal does today).
With the financial backing of the Confederate Union of the southern United States, Walker sent an international army of mercenaries into Costa Rica. When word of the invasion reached the capital, President Juan Rafael Mora organized 9,000 civilians to march to Guanacaste. At the hacienda of Santa Rosa on March 20, 1856, the mercenaries were routed in a 14 minute battle. The victorious Ticos pushed Walker's forces across the border into Nicaragua where they made another stand in a wooden fort in Rivas. On April 11, 1856 a drummer boy named Juan Santamaría, from Alajuela volunteered to set the fort afire, and although he successfully flushed the mercenaries he lost his life in the battle. He is remembered as a hero.
Walker returned to the United States, where he practiced law for a while before returning to Central America in another takeover attempt. In 1860, he was captured by the Honduran government, found guilty of treason and shot. Interestingly, another central figure in this history met a similar fate. President Mora lost political favor and his job after the battle. When he tried to regain control of the country in a military coup, he was captured, tried for treason and died in front of a firing squad the same year as Walker.
Amazingly, this single incident encompasses much of the military history of Costa Rica. While Ticos are proud of their war heroes, and established Santa Rosa National Park in part to protect La Casona and the other buildings where the victory occurred, they are even prouder of their remarkably peaceful history.
Palo Verde National Park
Palo Verde National Park has a uniquely dichotomous character.  It's simultaneously a spectacular wetlands and one of the best examples of tropical dry forests remaining anywhere in the world.  This dual nature is a result of the Río Tempisque flooding over land located in a relatively arid climate region.
The park, like many in Costa Rica's system consists largely of reclaimed pastureland. Fortunately, in the case of Palo Verde, the haciendas that preceded the park were somewhat different than the clear-cut ranches of the volcanic highlands. The underlying limestone, and the drier climate of the region gave rise to native forests where trees were sparser and there was more grass and forage in the natural ecosystem. Clear-cutting was not always necessary to ranching, and the park escaped it's tenure as pasture with less damage than most.
Birds Dry Season and Rainy
Birds are the biggest attraction at Palo Verde National Park. In the wet season the floodwaters of the Río Tempisque spread to form extensive marshes that welcome migrant birds from the Americas at the onset of winter. As the December through May dry season (called summer in Costa Rica) progresses the marshes shrink to isolated patches and pools, and the migrants depart for their summer nesting grounds in temperate climates.
Many of the resident tropical bird species nest on a small mangrove island in the Río Tempisque. Isla de Pajaros (bird island), as it is known provides a safe place for Cattle Egrets, Roseate Spoonbills, Wood Storks, Green-backed Herons, Anhingas, Great Egrets, and Black-crowned Night-Herons to breed. Other birds you can expect to see in the park include White Ibis, Glossy Ibis, Black-necked Stilt, Black-bellied Whistling-Duck, Snail Kite, American Widgeon, Northern Shoveler, and Blue-winged Teal.
In the dry season, many of the trees have dropped their leaves, and the wildlife is concentrated around the ever-shrinking water sources.  One of the best strategies for spotting the many species of mammals that Palo Verde National Park protects is to sit quietly near a water source. You may spot Variegated Squirrels, Howler Monkeys, White-nosed Coatis, White-tailed Deer, White-throated Capuchin Monkeys, and Collared Peccaries.
Cycling Across the Park
Palo Verde National Park is one of our favorites. When we first visited, there was a little known and unused back entrance to the park, across the Bebedero river. We rode and carried our bicycles across the whole park to the campground near the ranger station (Read about Biking Palo Verde Park).
The entrance and the trails it serves are now closed except for official research, but you can rent mountain bikes from the Organization for Tropical Studies station to explore other parts of the park.
Getting to Palo Verde
Although the back door from Bebedero has been effectively closed, there is another very interesting way to enter the Park. On the Nicoya side of the Río Tempisque, you can hire a boat at the dock in the pueblo of Puerto Humo and power your way upriver to the Park. Arrange with your boatman ahead of time to get a close-up look at the Isla de Pajaros (Bird Island), and perhaps continue upriver past the park where the vegetation closes in and you are sure to see crocodiles.
Best Time to Visit
Palo Verde is located in one of the driest regions of Costa Rica but when it does rain here the roads can be impassable.  Birdwatching is also better in the dry season because there are many migrants who arrive from up north to escape the snow in December through May.
Stay in the Park – OTS Lodge and Camping
There are a few parks and reserves in Costa Rica where it's possible to spend the night in relative comfort and thanks to the Organization for Tropical Studies, Palo Verde is one of them.  Lodging, meals and guide services are all available by reservation (See details – OTS Palo Verde Lodge).
If you've got the gear, camping is also an option.  The campground near the ranger station provides access to potable water, showers and restrooms.
Rincón de la Vieja National Park
There are two places in the area where you can visit Yellowstone like geothermal sites. Boiling hot mud springs, sulfur springs, steam vents, and fumaroles are abundant at Las Pailas and Las Hornillas (not to be confused with Las Hornillas on the slopes of volcán Miravalles, near the village of La Fortuna de Bagaces) on the southern slope of the volcano inside the park.
The activity isn't far from the surface anywhere in the region.  One of the largest geothermal electricity generation projects in the world is scattered through the valley between Rincón de la Vieja and volcán Miravalles. Driving near Guayabal or La Fortuna de Bagaces you can't help but notice the stainless steel steam delivery pipes that snake their way from wells driven into the earth to the turbines in the generating stations.
The name, Rincón de la Vieja, translates to English as 'the old woman's corner.' According to locals, the indigenous people of the Guatuso tribe named the volcano thus for one of two reasons. Either there was an old witch on top of the mountain who sent columns of smoke into the air when she was angry, or there was a kindly old woman occupying the same nook, and the smoke was from her cooking fire as she prepared meals for weary travelers. Maybe it's both because the Rincón de la Vieja crater has had at least eight periods of intense volcanic activity, and still bubbles and steams.
Hiking Trails and Campgrounds
The Peaks – Rincón, Von Seebach & Santa Maria
Note: In 2014 the trails to the peaks were closed intermittently due to increased volcanic activity.  In 2015 permanent signs went up the trails to the top are off limits through 2020 (see volcano closures)

The climb to the top of volcán Von Seebach and Rincón de la Vieja is steep and strenuous, but very rewarding.  Starting from the mid elevation tropical dry forest transition zone near Las Pailas ranger station the trail aims straight for the peak.
It climbs into premontane wet forest where the trees covered with epiphytic vegetation hunch closer to the ground in the harsher climate.
The final ascent over bare volcanic rock to the summit of Von Seebach (6,217 feet) is often in the clouds as is the trail down and around the rim to volcán Rincón.
It is possible to continue west from the crater of Rincón to volcán Santa Maria and down the slope to that ranger station and there is also a trail from the rim to Dos Ríos on the north edge of the park.
It's strongly recommended to hire a guide to attempt either of these trails and please note that in 2014 and 2015 the trails to the peaks have been closed intermittently due to abnormally high levels of activity.  Have a backup plan – like the hot springs maybe?
The Traverse – Las Pailas Station to Santa María Station
Another main trail in the park is a traverse along the slopes of volcán Santa María between the Las Pailas (aka Las Espuelas) and Santa María stations.
Much less challenging but every bit as rewarding in different ways.  You stay mainly in the dry forest and rainforest crossing streams and rivers each of which offers a side trail to an amazing waterfall or two or natural back country hot springs.

…roots, rock, reggae?…keep your eye on the roots. It's not a trick of the light, the roots really are rocking and moving as the wind twists this giant tree on a windy day on the traverse trail.
The Geothermal Features
Note: the new trails around Las Pailas and the new visitors center are intended to be wheelchair accessible and all season.

Las Pailas – the cauldrons is the name of the western entrance to Rincón de la Vieja National Park and also for the boiling mud pots, steam vents and mini-geysers near the ranger station.  A loop trail with interpretive signs leads from the ranger station past an interesting selection of geothermal features but our favorites -natural hot springs, mini geysers and fumaroles – are a little farther afield on the Crater Traverse trails.
Waterfalls & Miradors
Other trails from each station lead to miradors and yet more waterfalls and anywhere you walk in the area you'll see birds and other wildlife.
Santa Maria Campground
The campground at Santa María station is simple but one of the nicest of any Costa Rican national park.  Grassy tent sites, picnic tables, shade trees, fresh water, showers and outhouses. It was renovated in 2019 and costs $4 per person per night (plus the $15 park entry fee).  See other Costa Rica national parks with camping.
When to Visit
The park is open six days a week (CLOSED MONDAYS) year round including holidays.
This is one of the hotter drier areas of Costa Rica, and the whole region around Rincón de la Vieja has more predictable seasons than the rest of Costa Rica. The chance of rain is much less during the dry season from December to April, but the higher you climb, the more likely you are to get wet… any time of the year.
Although it is fairly likely that it will rain on any given day during the rainy season (AKA the green season), it is also fairly likely that it will be a short shower in mid-afternoon. The rainy season which lasts from May until November is also usually interrupted by a two or three week dry spell in late July or August called the Veranillo de San Juan (saint Joseph's little summer).
Use the drop down menu to see weather patterns and other seasonal information for the month you are thinking about visiting.
Nearby
One of the best things about this National Park are the excellent lodges nearby.  Both RDLV Lodge and Hacienda Guachipelín are highly recommended and the adventure pass activity package is a perfect adrenaline filled compliment to a day of quiet hiking and wildlife watching on the trails.

Adventure Pass – Zip wires through the rain forest, rappelling into a canyon, sloshing and careening down a river in a tube, plus rock climbing, horseback riding and waterfall jumping…
Quick Facts Volcán Rincón de la Vieja National Park