10 Tourism Adventures You Can Only Have in Costa Rica

With zip lines, curious monkeys, beaches fringed by tropical jungles and sustainable eco-adventure as a way of life, Costa Rica delivers on its promise of Pura Vida "pure life" – a mantra that's a way of life here. Bonus: There's no jet lag (it's the same time zone as the Midwest) and there are nonstop flights from 15 U.S. cities.
1. Adventure Tourism
If you spend any time in Costa Rica and don't go on a zip line, you've kind of missed the point of a trip here. The bravest go "Superman" on their belly, head first. Zip lines aren't hard to find — whether it's in the misty cloud forest of Monteverde, in the looming shadow of the Arenal volcano, or through the colorful jungle canopy at various spots throughout the country.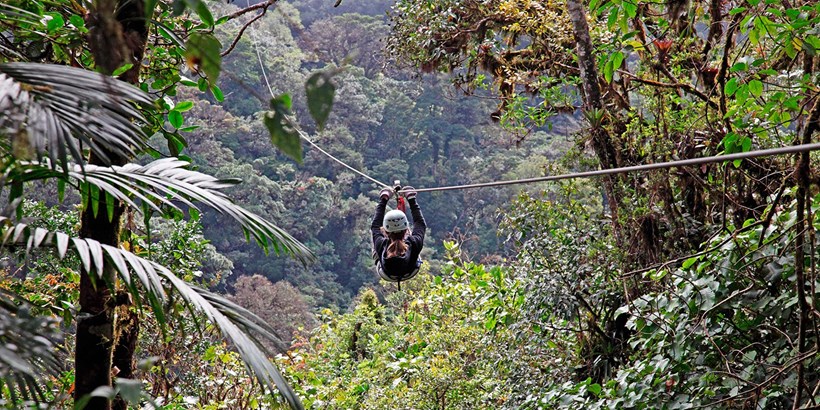 ---
2. Nature Tourism
More than 25% of the country is protected land or national parks. Bird-watchers should put Los Quetzales National Park (south of San Jose) on their itinerary to see the resplendent quetzal (really, that's the bird's name) and many other birds that call the cooler climes of the cloud forest home.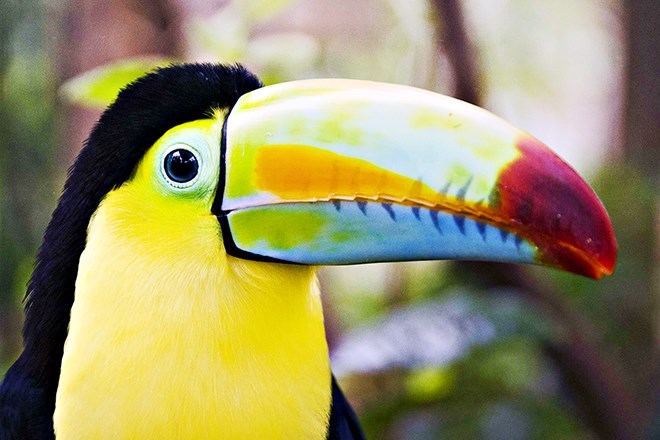 As for the monkeys, these guys are everywhere, and you might actually hear them before you see them. Howler monkeys are Costa Rica's version of white noise — a soundtrack to remind you that you aren't in the States. Capuchin monkeys will pop their white heads out of the trees to see what's going on and may photobomb your next selfie.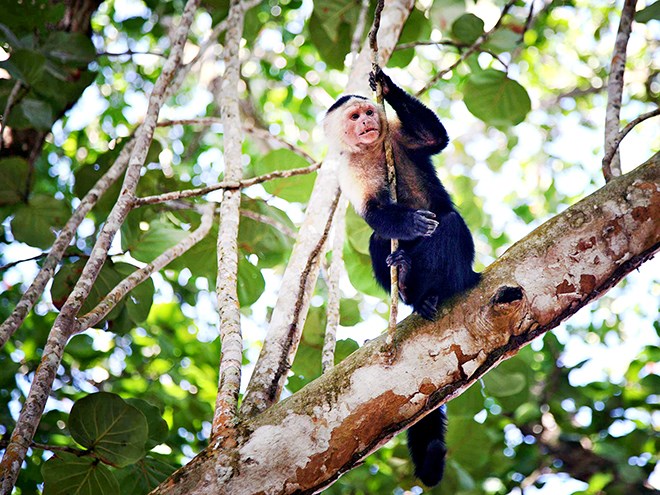 Corcovado National Park on the country's southern Pacific coast is the country's largest national park, and home to 3% of the world's biodiversity all by itself. The waters off the surrounding Osa Peninsula are a great spot for dolphin sightings and whale-watching — humpback whales come to the waters off of Caño Island from as far away as Alaska.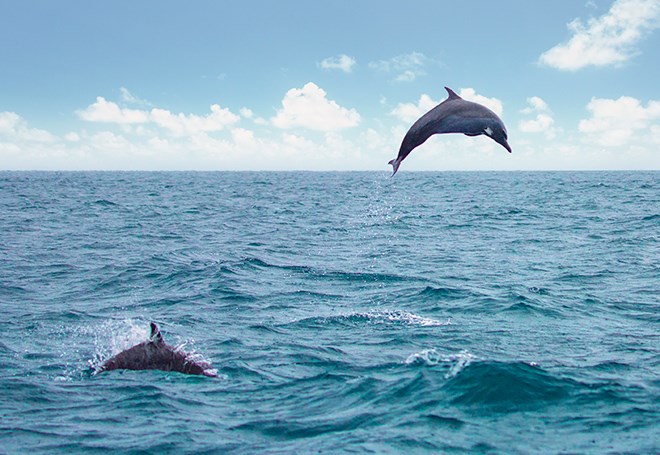 ---
3. Surf tourism
Year-round surfing on the Pacific and Caribbean Coasts has drawn ex-pats to Costa Rica, and built up surf towns along the way. Jaco is the closest to San Jose, but our Deal Experts recommend making your way to Guanacaste in the country's northwest for the best experience. Flying directly into Liberia makes getting to there easier. No need to bring your own board — many beaches will have a small stand offering boards and lessons for a half day or more. Towns like Nosara, Samara, Avellanas and Tamarindo are among our favorites.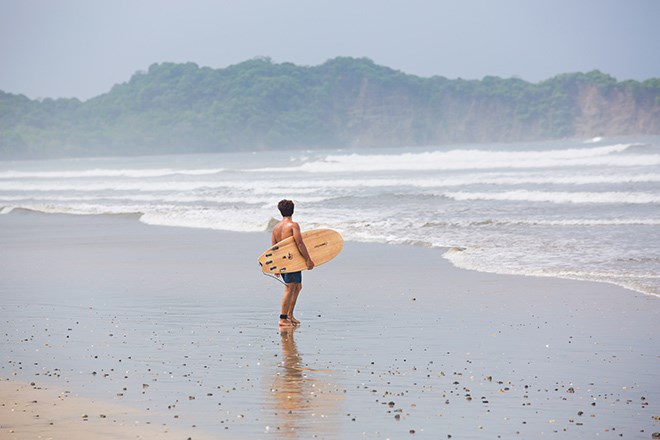 Serious surfers will make their way to Puntarenas at the end of the Nicoya Peninsula to the surf community at Santa Teresa Beach. If you're really up for an adventure, head to Pavones in the country's far south for the three-minute rides on the left-handed break.
---
4. Eco Tourism
Towering like an ancient Mayan pyramid above the central Costa Rican forest, the Arenal volcano is one of the country's iconic sights. While the volcano has been dormant since 2010, there's still the occasional rumble in the jungle. The area around Arenal is a veritable playground with the massive Lake Arenal used for boating, kayaking and stand-up paddleboarding, hot springs and waterfalls (more on these later), zip lines and horseback riding. Get up early no matter when you go to try to sneak a peek at the peak — the volcano summit often hides behind the afternoon clouds.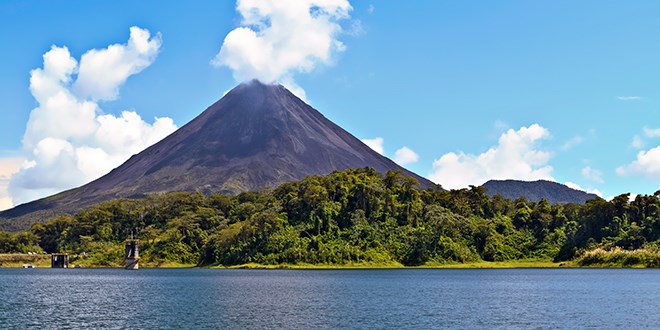 Arenal is one of 5 "active" volcanoes in Costa Rica scattered along country's mountainous interior. Poás and Irazú are a comfortable day trip from San Jose (bring a jacket, it can get cold up top). On a clear day, you can see both coasts from the summit of Irazú.
Rincon de La Vieja National Park's focal point is a volcano that is over a million years old but has erupted as recently as 1991. Hike up to the top of the volcano for magnificent views of the Nicoya Peninsula and the Lago de Nicaragua. Or try other adventures here, including canyoneering, waterfall rappelling (you literally rappel down a waterfall) and, of course, zip-lining.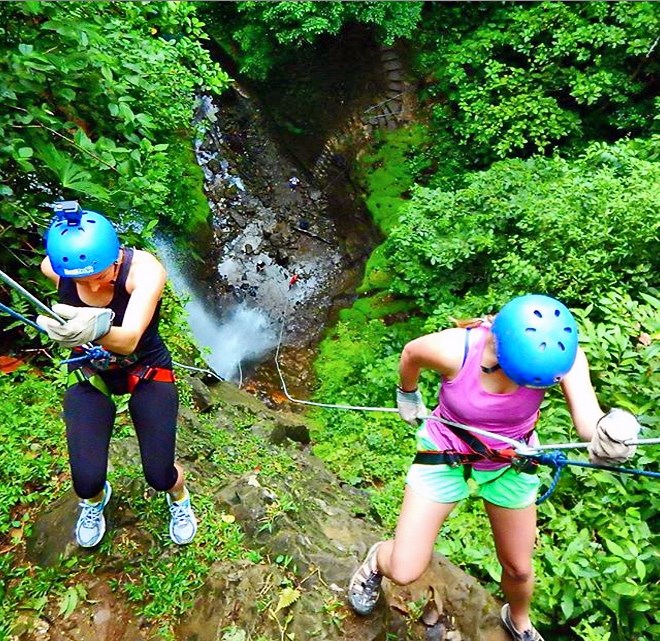 ---
5. Wellness Tourism
So how exactly is a spa day an adventure? When your hot tub is a naturally occurring hot spring, and your spa attendant may well be a curious monkey. Costa Rica's volcanic underpinnings mean hot springs bubble to the surface — drawing in visitors looking to unwind in mineral waterfalls amid a leafy backdrop.

---
6. Nature Tourism
It's hard to beat the rush of that first time you see (and hear) a waterfall bursting from the jungle backdrop. There are several falls worth a detour — especially during the green season, when the rains feed Costa Rica's rivers.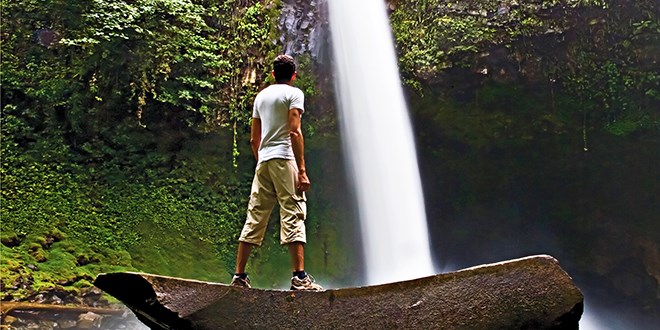 La Fortuna waterfall (near Arenal) is about a 20-minute hike on a well-marked path with a big reveal at the end. You can swim in the cold waters at the waterfall's base or take the rope swing to jump in. Another favorite is in Tenorio Volcano National Park in the Northern Plains, where the Rio Celeste plunges out of the jungle into a pool of brilliant blue water.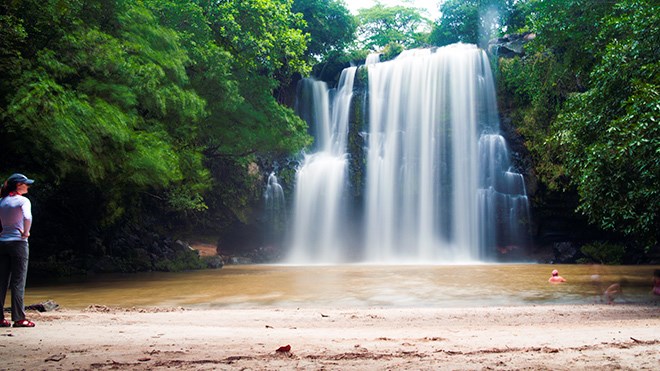 Bajos del Toro (in the Alajuela province) is relatively unknown to tourists, but make sure to check out Catarata del Toro — a dramatic 300-foot waterfall into an extinct volcanic crater located on a private reserve. (There is an admission fee, but that means the facilities are in better shape for visitors — and it's less crowded.) You can take the steep hike to the bottom for an up close view –– or take in the big picture from above.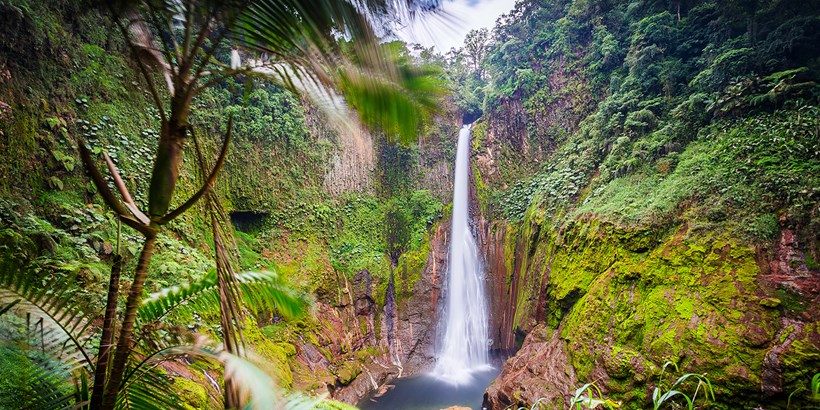 In the town of Bagaces (a half hour from Liberia), Llanos de Cortés is easy to access and once you get to the bottom of the trail, you'll be able to swim alongside the native frogs, fish and lizards that call this spot home.
---
7. Adventure Tourism, White Water Rafting
Costa Rica's rios (for you gringos) are an adventure all to themselves.
Rio Pacuare is a white-water playground — we're talking rapids as rough as Class V as the river rushes through gorges and untouched tropical forest toward the Caribbean. National Geographic named this one of the top spots in the world for white-water rafting. Companies will take you out for everything from a fun-filled day on Class III rapids to a 3- or 4-day adventure with serious white-water during the day and luxe eco-lodges at night.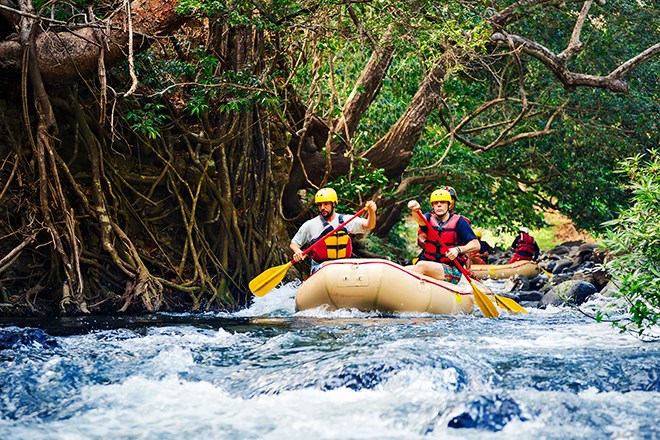 If tubing, whitewater rafting and rappelling are not your thing, try stand-up paddleboarding on the Pacific Coast. The waters are calm at Peninsula Papagayo in Guanacaste, and you may spot a few folks balancing on their boards while practicing yoga.
UNESCO just declared Costa Rica's Savegre a Biosphere Reserve and rightfully so as it hosts 20 percent of Costa Rica's flora, 54 percent of the country's mammals and 59 percent of birds. The region's focal point is the pristine Rio Savegre where daring visitors can not only see the tapirs, jaguars and a plethora of birds that line the river, but can do so while white-water rafting. Be sure to make a pit stop at the beautiful San Gerardo Waterfall aka Rio Savegre Waterfall, your reward for conquering the rapids.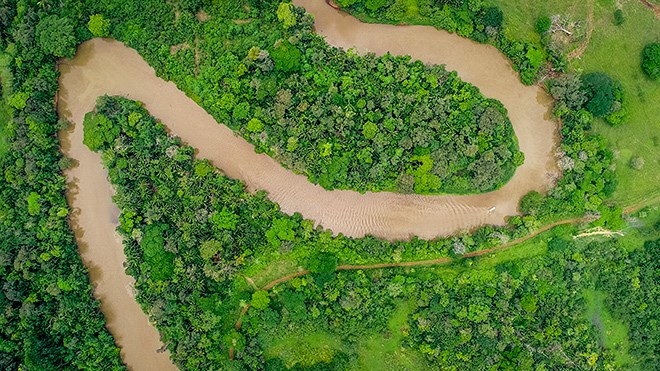 ---
8. Hit the road Tourism
Driving in Costa Rica can be its own adventure. Take our advice and get the 4×4 rental when it's offered, but also be advised, no driving on the beach. While main roads are generally okay, secondary and mountain roads can be narrow and rough — especially when rains cause potholes or washouts. Getting to off-the-beaten path gems requires a vehicle that can beat its own path. You should also get the GPS — road signs aren't common outside the main cities, and even then it's spotty. Don't expect to get from Point A to Point B in record time, so embrace the slower pace. It's worth a stop at a roadside shack for some rice, beans and plantains or a refrescos — a fresh fruit drink popular in Costa Rica.
One of our favorite ways to get around in Costa Rica is via horseback, whether it's climbing the hills around Arenal (so you can zip line down) or along the surf at Hermosa Beach or Manuel Antonio.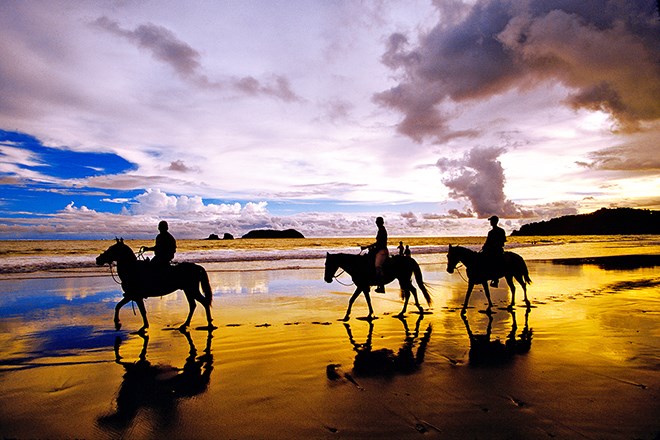 ---
9. Dive Tourism
Costa Rica's name in Spanish means "rich coast" — which has as much to do with the treasures below the surface as it does the picturesque beaches.
The Gulf of Papagayo in Guanacaste is a popular (and accessible) spot for casual divers — one of many along the Pacific Coast. If you're serious about scuba, then Caño Island and the waters near Corcovado National Park should be on your list. This is a trip in and of itself, but the deep sea diversity is something to write home about. We're talking schools of fish so thick that they block the sun, plus manta rays, bull sharks, dolphins and more.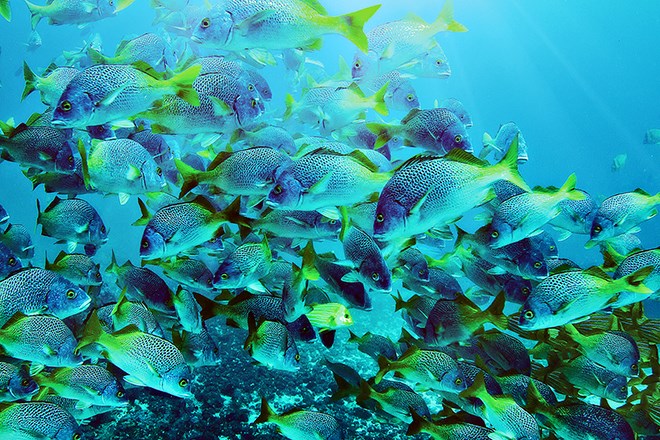 ---
10. Spiritual tourism
A little Zen goes a long way, and our Deal Experts really like to get their "Om" on in Costa Rica to balance out all the activities. There are several yoga retreats scattered around the country — not surprising in a place where the natural surroundings are inherently peaceful. One favorite spot is Nosara, a beachfront area on the Nicoya Peninsula that also doubles as a great surf spot. Ride the waves in the morning; strike a pose in the afternoon.
Sounds like the perfect day.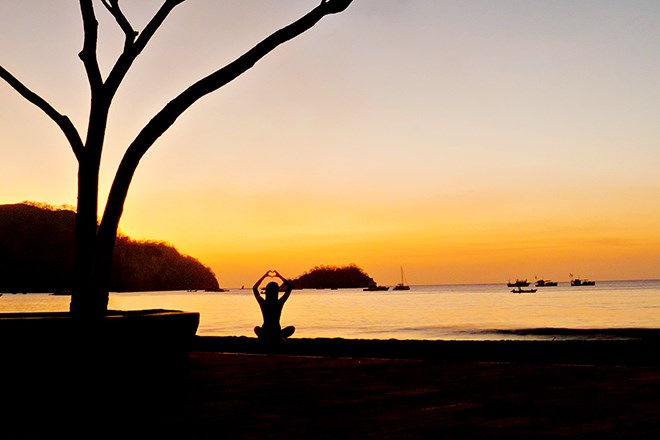 ---